About Tidewater
Tidewater Cleaning Service is an award winning, woman owned cleaning company serving both residential and commercial customers on Maryland's beautiful mid-shore.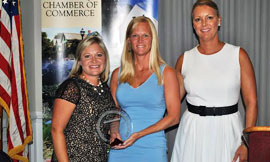 MORE ABOUT US
Why Choose Tidewater?
Our mission is simple, to provide the highest quality cleaning service to mid-shore residents with unparalleled customer satisfaction.
Flexible Scheduling
Large service area
Free Estimates
Insured & Bonded
"Green" Cleaning Available
Residential & Commercial Services
Reliable & Courteous
VIEW ALL SERVICES

Request an Estimate
Call or message us today to schedule your free residential or business estimate.
Careers
Interested in joining our team? If you think you'd make a good fit,
send us a message
.
Our COVID-19 Protocols
To see what we're doing to stay safe, please read our
COVID-19 protocols.
.
What our customers have to say about us:
Salisbury Pewter began using Tidewater Cleaning Service in July 2011, and we could not be happier with their service. They clean our facility during the workday, but their staff does a thorough job with minimal disruption. We had high expectations, and we have not been disappointed. I would recommend Nicole, Kathy, and their entire team to anyone who needs reliable, trustworthy, professional cleaning service for their home or business.
I highly recommend Tidewater cleaning service. They are efficient but thorough, accommodating, reliable and courteous. I have had experience with various services and individuals in Baltimore, Howard county and D.C. Tidewater Cleaners is by far the most professional and pleasant to deal with.
The Mid-Shore Board of REALTORS has used Tidewater Cleaning Service for over a year and we are thrilled with the service. Their monthly cleaning of our office is a lifesaver. They confirm the cleaning day in advance, have professional and highly competent staff and are easy to work with. For me, the best part is next day, when I walk in the office, it's all bright and sparkles! Thank you from the Mid-Shore Board of REALTORS, in Easton, MD
The Tidewater ladies are the best cleaners I have had in many years -- maybe ever. They are reliable, pleasant, and quick but very thorough. I'm delighted with their work and would recommend them highly.